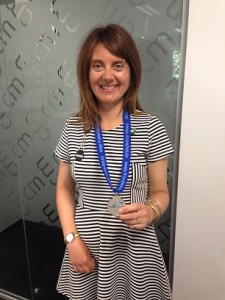 Genevieve Wickham of Culshaw Miller Lawyers in Perth recently participated in the SYC Sandringham Yacht Club, in the ISAF Sailing World Cup held in Melbourne on 7-14 December 2014. This is the first of seven regattas around the world, the next being in Miami. There were 800 competitors from 33 countries in the Melbourne regatta.
Genevieve came second in her class sailing solo in the Hansa Liberty section. She was only beaten by a fellow Australian and competing in her race were competitors from England, Australia and France. Gen was the only woman in this class.
Gen, as we affectionately call her, has been sailing now for many years and is a very experienced yachty. She travels worldwide to compete in these events on an annual basis and always comes home bearing medals.
Gen's next yachting adventure is in London next year where she will compete in the same race and hopefully bring home the GOLD. We wish you all the best Gen!