About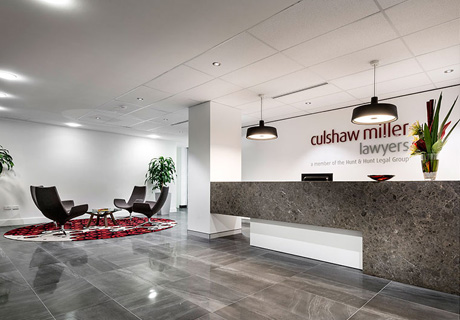 Culshaw Miller Lawyers is a full service law firm in Perth, Western Australia with experienced Lawyers practicing in areas such as, Family Law, including the new Mediation Style Conferencing and VROs, Criminal Law, Wills and Estate Planning, Conveyancing, Property Law, Commercial Legal Matters, Litigation and Dispute Resolution, Employment, Contracts and Workplace Matters.
Our Law Firm has a range of legal specialities in with you will find some of the most experienced and qualified perth lawyers in Western Australia. Including Elizabeth Heenan who was awarded the 2012 Australian Women's Lawyer of the Year.  In the family law section are two Accredited Family Law Specialists and our legal practice has been quality assured via the Law Society of Western Australia for over 15 years so you know you are receiving the most accurate, qualified Perth law firm advice along with consistently high standards of service. Our law firm is not only experienced within the local Perth community but also national Australian and International Law. So whatever your legal requirement, Culshaw Miller Lawyers are available help.
Our solicitors listen, act and provide solutions for our clients.
Practice Areas:
– Family Law
Our law firm Perth Lawyers are experienced in all facets of family and de facto law.  See our blog page for recent articles and updates and our family law section to find answers to your financial, property, superannuation, maintenance, children, shared care, parenting, child support and de facto law questions.  We can also advise on any issues relating to violence restraining orders and criminal law matters including magistrates court and children's court matters. Make your appointment for an initial consultation , we can see you today!
– Estate Planning, Wills and Probate
Find out more information on drawing up your Will, creating trusts, on how to deal with your estate planning matters or probate requirements.
– Commercial Legal Matters
Our commercial lawyers are experienced in all aspects of commercial law.
– Property Law
Find advice on all property transactions in this section including, international property projects, purchasing private property, complex development proposals and acquisitions and much more.
– Conveyancing
We are also conveyancing lawyers, click here to complete our quote form for your settlement. Settlement agents are not able to provide legal advice on the settlement of your property but lawyers can, and we can provide a competitive quote.
– Litigation & Dispute Resolution
Our perth litigation lawyers are experienced in all Western Australian Courts, including Federal and Magistrates Courts.
– Employment and Workplace Matters
Our Lawyers advise on a range of employment and workplace matters.
With our legal connections throughout Australia, New Zealand and overseas via our connection with the Hunt & Hunt Legal Group and Interlaw, our law firm Perth is able to easily assist you with any matter, even if you are based outside of Perth or Western Australia .
We are located in the Perth CBD, close to public transport and with lots of parking available it makes it easier to get to.
To book in for your initial appointment with us, please complete the appointment form or call us on
08.9488 1300. We look forward to looking after you soon.
The Team at Culshaw Miller Lawyers
View our Quality Practice Accreditation.